I recently read a brilliant piece from a fellow substack writer Erik Hoel, about how the popular news and media websites get away with copypasta.
A quick question. Do you believe everything you see and read online? Do you tend to think of stories from popular news websites and companies as trustworthy and better than other outlets?
Erik Hoel gives a very good example of The Guardian, a very popular news website having good credibility in this industry.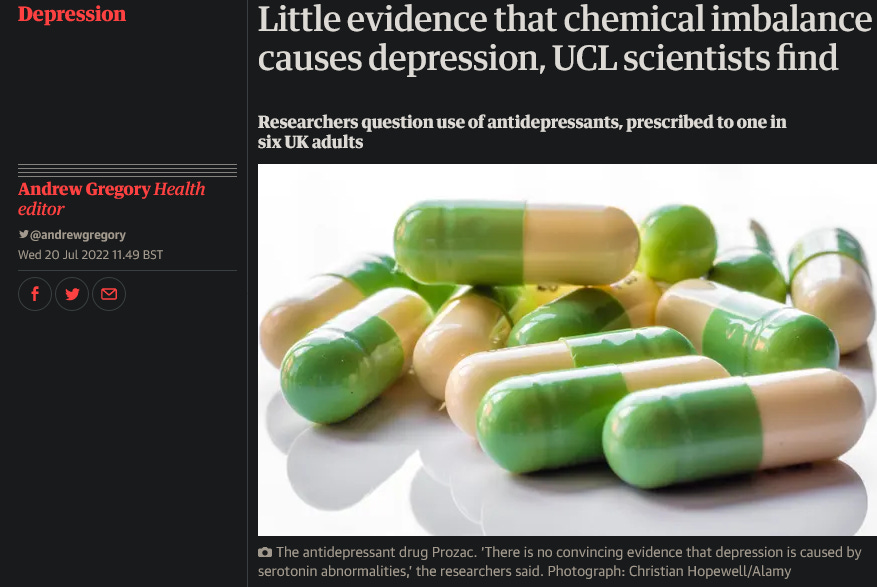 The article in question was titled Little evidence that chemical imbalance causes depression, UCL scientists find.
I was curious to see for myself if the claims were indeed true. And turns out that yes, they are pretty much true.
The article doesn't cite anything first of all as he mentioned. And he is the first person I have seen in my life who has questioned a news website not citing their sources. So I can confirm they indeed get away with this tactic.
The links in the article take you nowhere. Here is one such link. You would think that those words in red ink would take you to the source but nope. That's not happening. What is happening is that they will just run the search for the word "NHS" on their website, which would give us other articles having the mention of "NHS".
They straight up copy-paste the quotes from other media outlets, mostly smaller as compared to themselves, and don't give credits. What this does is gives a false sense of belief to the readers that they did all the hard work of getting in touch with those people and got them to say a few words. Moncrieff didn't say this to the guardian, the guardian picked this up from another news source and copy-pasted it on their website, and didn't credit the source. The source probably has no problem with this, but that doesn't matter. It's vague and the majority doesn't know about it.
---
General readers don't care. They want news and they still get it. The thing is, do you want to see an old and popular media and news outlet get away with these practices when all this can be corrected without any hassle?
As Erik mentioned, writers probably are doing all this already. They are following correct practices and crediting and citing the sources and linking properly before submitting their drafts. But by the time those articles are published, the editors have done their job and removed the things which don't align with the outlet's writing guidelines.
My guess is, that these things are done because:
Writers need to be quick. And by that I mean really really quick. Every minute is important and the faster you publish stories, the more traffic you are going to collect. Traffic is important. It's the key to everything in the online world.
It's hard to credit the sources and get the quotes with those tight time constraints in place. They rather just copy-paste and get away with it. (My suggestion is why don't they do this after they have published the story? Credit the sources, cite and, link when you have time and have verified them, and update your articles later. I have seen some news websites do this, works fine enough.)
Readers don't care. The majority will never think the way Erik did, and they will just read and go away. So there is no real motivation for outlets to change their ways.
But what matters is that a piece of writing should try to empower a reader, and the omnipresent lack of outside context indicates that the primary purpose of these websites is not to empower their readers. – Erik Hoel
If you have been following me for some time now, you would know that I always link to anything and everything that has nothing to do with me. I don't know everything I write about, so I don't pretend to do that. And as Erik said, big news outlets can get away with it, but independent writers probably won't. They will be cooked and probably embarrassed about doing something like this.
Over the years I have come to realize that the online news industry hangs on a very thin rope, but the authority and popularity they have balances out their practices of misinformation. Next time you read an online article from a reputable news outlet, watch out. If you find them lacking, the back button should be the next step. They are not empowering you and they don't care about you.