I was scrolling my WordPress reader one day when I stumbled upon a post that made me think a lot of things about tourism, enjoyment, and life in general. The mountain and landscape imagery from Switzerland looks beautiful. I have never been to a foreign nation before for tourism, or tourism in general in India as well. I do not see the need to travel and explore the world as of now. But I do think that one day when things are calmer and my life is more complete, I will go out to explore.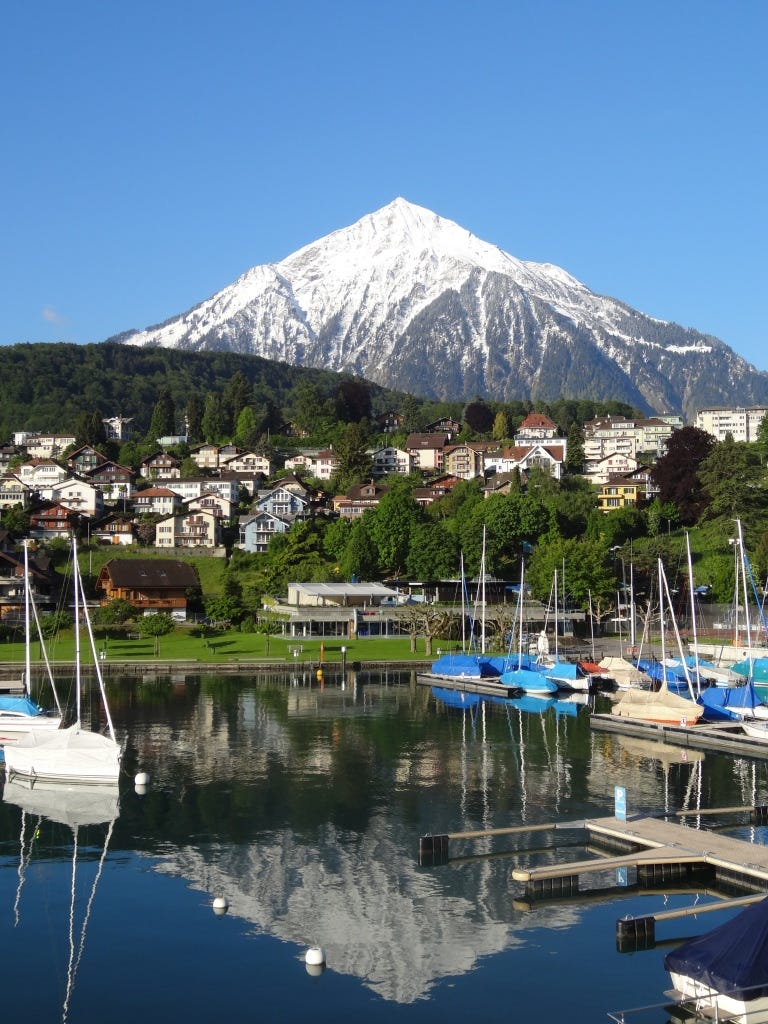 The first image from the blog features a wonderful mountaintop and a lake beneath it. There are many multiple houses in the middle of the image. The reflection of the mountain in the calm water of the lake is wonderful to look at. The mountain is known by the name of Niesen. The following images feature a river flow, a cute boy, a train track I believe, a person paragliding with the backdrop of multiple houses, another person paragliding with the backdrop of a beautiful chain of mountains, another chain of mountains in the distance with a river flowing through the middle, distant mountain tops with houses that look tiny beneath them, and the same cute boy in the end.
I must have to admit that Switzerland has some wonderful mountains, and those images are proof. There must be hundreds of millions of people in the world who have Switzerland at the top of their list. But how many, I think would ultimately have a chance to end up visiting there? Not a lot I believe.
Earth is a huge planet. Even with people who read astronomy all day trying to convince us that we are a dot, which we are, the planet is huge. There are a billion places on our planet that must be beautiful and the same just like these mountains. I read about the tourism industry thriving in the world since the majority of the restrictions for Covid-19 have been lifted. But I wonder how many people go to these places every year. There are almost 8 billion in the world, but not even 1 billion I believe have the resources to constantly explore the planet as it is.
tourism

noun

noun: tourism

the commercial organization and operation of holidays and visits to places of interest."a national fund for the promotion of tourism"
Life has limits, but when I think about it, it's deep. I will never be able to enjoy and capture all the beautiful places the world has to offer. And that is simply because I will never have the resources to explore the world to the fullest. By resources I don't just mean the money, I mean the time, health, and mood. I have lived for 20 years, and I only have a couple of places to speak about when it comes to tourism. Tourism is very limited, and still, we hear that there are billion-dollar industries in many nations that are completely dependent on it.
If this small fraction of people going around in the world to do all the tourism makes up such a huge impact on the livelihoods in many nations, think what would happen when the majority in the world will be going around like that. But that will never happen. The world doesn't work like that.
I feel a little overwhelmed when I think about it like that. 8 billion people on the planet and all except some will be engaged in the fight for survival, taking time and energy left to explore the world. This must be a reason why I still don't know of a family near me who has gone to another part of the world for tourism. It is expensive and time-consuming.
And when I think about exploring the mountains in Switzerland, I am completely forgetting the wonders India has. There are so many wonderful places just in my own country to keep me occupied for a long time if I indeed started going around for tourism. Humanity has limits, but exploring the world is one that makes me sad.
Exploring the world seems a gargantuan task for humanity, now imagine taking it to next level and trying to explore other worlds. We haven't even explored our oceans to their fullest yet. There must be millions of wonders still left to be discovered by us on this planet, on top of millions we will never get to see and experience. Yeah, humans have limits, and I think I downplay them a lot. We have a good brain, we can think logically, and solve problems. But in the end, we are also animals, trying to survive in the world. And we have limits, some of them so big, that nothing will ever help us cross the line.
---
I don't know why I am blabbering shite just because I saw some beautiful images from Switzerland. I guess the images made me realize that I am fucking small compared to those mountains and that I should know my place. Alright, I will.
While you are still here, give bereavedsingledad a follow and make sure to check the post and comment on it. I just read the post, saw the images, and saved it to revisit later and write about it. Wonderful images, and a lovely boy.
Thank you for reading. Remember that I am in my senses while writing this post, so do not think I am drunk. I don't consume alcohol, and neither should you. I wish you a wonderful day ahead peeps.